With inside and outside jaw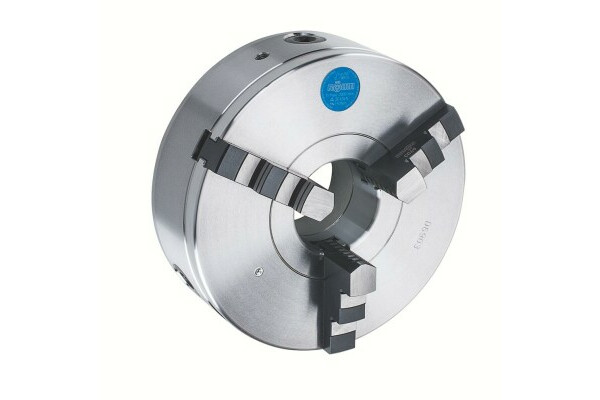 Geared scroll chucks in steel design.
3-jaw and 4-jaw version.
Technische Merkmale
With one-piece jaws or with base and top jaws
Steel body and spiral ring die-forged
Series-balanced and hardened
ZSU = centric clamping, steel, reversible top jaws
Einsatzbereich
Proven geared scroll chuck for use in areas requiring high clamping forces, high concentricity as well as reliable long-term repeatability.
For universal use on lathes, rotary tables, dividing units, etc.
Vorteile
High clamping force
Special flat design for minimum interfering contours
The jaws can be adjusted over the entire clamping range by turning the key. This allows workpieces with different clamping diameters to be quickly clamped
Jaws in chuck ground out for concentricity
Product price:
from 583,00 €
| | Product number: | Product name: | Availability: | Product price: | |
| --- | --- | --- | --- | --- | --- |
| Select product | 101692 | ZS, size 125, KK 4, 3 jaws, ISO 702-3,steel body | Only a few products are available. | 583,00 € | |
| Select product | 100740 | ZS, size 160, KK 4, 3 jaws, ISO 702-3,steel body | Items available | 746,00 € | |
| Select product | 100744 | ZS, size 160, KK 5, 3 jaws, ISO 702-3,steel body | Items available | 746,00 € | |
| Select product | 100152 | ZS, size 200, KK 5, 3 jaws, ISO 702-3,steel body | Items available | 978,00 € | |
| Select product | 100156 | ZS, size 200, KK 6, 3 jaws, ISO 702-3,steel body | Items available | 978,00 € | |
| Select product | 100555 | ZS, size 250, KK 6, 3 jaws, ISO 702-3,steel body | Items available | 1.285,00 € | |
| Select product | 100556 | ZS, size 250, KK 8, 3 jaws, ISO 702-3,steel body | Items available | 1.285,00 € | |
| Select product | 101364 | ZS, size 315, KK 6, 3 jaws, ISO 702-3,steel body | Items available | 1.910,00 € | |
| Select product | 101365 | ZS, size 315, KK 8, 3 jaws, ISO 702-3,steel body | Only a few products are available. | 1.910,00 € | |
| Select product | 101366 | ZS, size 315, KK 11, 3 jaws, ISO 702-3,steel body | Items available | 1.910,00 € | |
| Select product | 102202 | ZS, size 400, KK 8, 3 jaws, ISO 702-3,steel body | Items available | 3.745,00 € | |
| Select product | 102210 | ZS, size 400, KK 11, 3 jaws, ISO 702-3,steel body | Items available | 3.745,00 € | |