Standard basic plate GP for DUO-Tower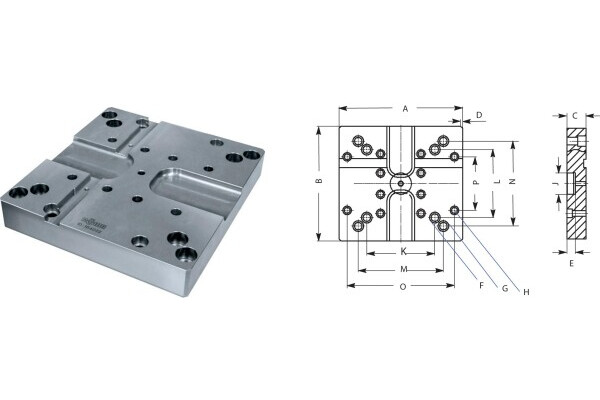 With centering for machine table/pallet.
Without mounting or height adjustment of the clamps.
Incl. T-nuts, clamping claws and screws for aligning and fastening the clamps on the base plate.
Technische Merkmale
Bores for modular grid 40/50/63
Without aligning groove/bore (machine side)
Einsatzbereich
Suitable for the complete setup of two NC compact clamps, back-to-back.
Product price:
from 992,00 €
| | Product number: | Product name: | Availability: | Product price: | |
| --- | --- | --- | --- | --- | --- |
| Select product | 164016 | Standard base plate GP, 250x250, for DUO-Tower, for NC compact vice | Items available | 992,00 € | |
| Select product | 164018 | Standard base plate GP, 250x250, for DUO-Tower, for NC compact vice | Items available | 992,00 € | |
| Select product | 164020 | Standard base plate GP, 290x270, for DUO-Tower, for NC compact vice | Items available | 1.060,00 € | |
| Select product | 164022 | Standard base plate GP, 290x270, for DUO-Tower, for NC compact vice | Items available | 1.060,00 € | |
| Select product | 164024 | Standard base plate GP, 350x350, for DUO-Tower, for NC compact vice | Items available | 1.225,00 € | |
| Select product | 164026 | Standard base plate GP, 350x350, for DUO-Tower, for NC compact vice | Items available | 1.225,00 € | |